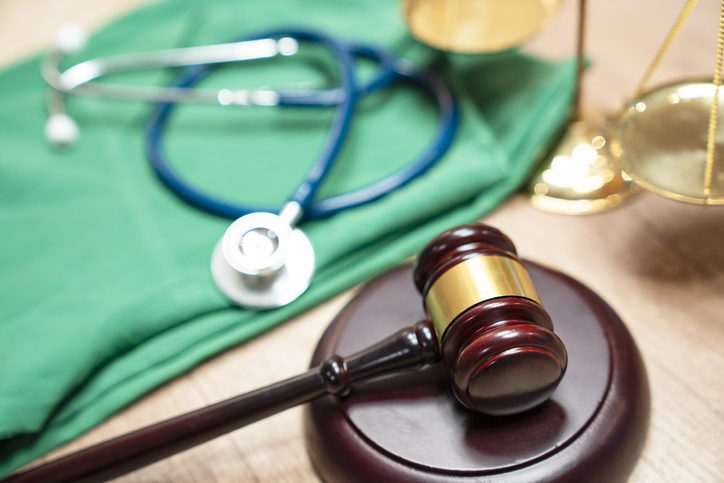 (NEW YORK) — Hospitals in Missouri and Kansas violated federal law last summer when they refused to provide an emergency abortion to a woman who went into premature labor at nearly 18 weeks and risked developing a life-threatening infection, according to initial findings in a government investigation by the Centers for Medicare and Medicaid Services.
The investigation, which is the first of its kind, underscores the persistent legal confusion in several states that ban abortions but carve out exceptions when a patient's life is at risk. Abortion rights advocates say there's no clear standard on when a health condition is serious enough to intervene and that doctors are often unclear on how to treat medical complications in a way that won't violate anti-abortion statutes.
In the case of Mylissa Farmer of Joplin, Missouri, she was told she risked developing an infection and other serious complications if she remained pregnant after her water broke, investigators found, but at least two hospitals denied providing her with an abortion because of concerns it could violate state abortion laws.
"Since (last year's Supreme Court decision), there's been a lot of legal chaos and confusion and we really applaud that this is decisive action" by the government, said Michelle Banker, director of reproductive rights and health litigation at the National Women's Law Center and Farmer's lawyer.
Patients are "really being forced to wait until they are on the brink before hospitals will intervene," Banker added. "And what this decision makes clear is that federal law does not allow hospitals to put patients in that impossible scenario."
Last August, after Farmer arrived at a Missouri hospital, the doctors there said her fetus had a "very low" chance of survival and that an abortion was necessary to prevent her from developing sn infection and other problems due to her medical history, according to federal findings.
But because the fetus still had a heartbeat and Farmer remained stable at the time, the legal staff at Freeman Health System in Joplin, Missouri, determined that delivering the fetus at such an early point in the pregnancy would violate anti-abortion laws, investigators said.
"She expressed concern of infection with ruptured membranes," according to a federal report on Farmer's case. Doctors at the hospital "discussed that unless delivery becomes emergent, we are unable (to) help her deliver due to current state law while fetus has a heartbeat, even (though) the fetus is not viable."
Farmer then drove three hours to the University of Kansas Hospital in Kansas City. While abortion is legal in Kansas, Farmer had arrived there the night of Aug. 2 — the same day the state was voting on whether to amend its constitution to allow for abortion bans.
According to Farmer's complaint, the hospital's legal counsel told the doctor not to deliver the fetus prematurely or surgically remove it because it would be 'too risky in this heated political environment to intervene.'"
The Health and Human Services Department's CMS, which works with hospitals to administer Medicare and Medicaid dollars, says it found that Farmer's treatment at both hospitals violated a federal law known as Emergency Medical Treatment & Labor Act, which requires that hospitals provide stabilizing care to patients showing up in emergency rooms. Neither hospital responded immediately to requests for comment.
A CMS spokesperson said the hospitals are now "taking steps" to demonstrate compliance with the law. If compliance remains in question, the hospitals could risk losing access to the Medicare program and eventually being fined.
The Biden administration last year issued guidance to hospitals that abortions should be considered stabilizing care, although anti-abortion rights advocates say this position is unnecessary. They argue that hospitals can't be forced to grant access to abortion, although the Lozier Institute has called on state medical boards and other oversight groups to offer hospitals more detailed guidance.
States with abortion bans still allow terminations "in those rare and heartbreaking circumstances when it is necessary to save the life of a pregnant woman," the Lozier Institute, which opposes abortion rights, wrote in an online post earlier this year.
"Physicians can make this determination based on their 'reasonable medical judgment,' a standard very common in the medical profession and used for any case involving medical malpractice litigation," the group added.
Still, other medical experts say it's not clear how sick a patient must be to qualify for an abortion and warn that doctors still fear running afoul of state laws.
In a letter to hospitals this week, Health Secretary Xavier Becerra told administrators they must under law "continue to require that healthcare professionals offer treatment, including abortion care, that the provider reasonably determines is necessary to stabilize the patient's emergency medical condition."
Copyright © 2023, ABC Audio. All rights reserved.