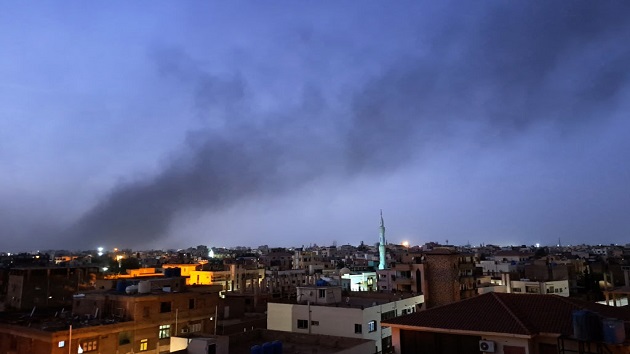 (KHARTOUM, Sudan) — As countries wind down mass evacuations of their nationals from war-torn Sudan and the White House warns time is running out, the United States has undertaken its first effort to move hundreds of Americans citizens out of Khartoum, the capital.
A government-organized convoy carrying U.S citizens, locally employed staff and nationals from allied and partner countries arrived at Port Sudan on Saturday, according to the State Department, which said Sunday that a second convoy had also arrived.
"We continue to assist U.S. citizens and others who are eligible with onward travel to Jeddah, Saudi Arabia where additional U.S. personnel are positioned to assist with consular and emergency services," State Department spokesperson Matthew Miller said in a statement on Sunday.
Almost 1,000 U.S. citizens have left Sudan since fighting broke out between Gens. Abdel-Fattah Burhan and Mohammed Hamdan Dagalo, Miller said Sunday.
"Fewer than 5,000 US citizens who have sought guidance from the government," he said.
The State Department has stressed its commitment to American nationals amid the still-developing violence. According to Miller, the routes for exit have included partner-country flights and convoys as well as U.S.-organized travel and seats on departing ships.
"The U.S. government has taken extensive efforts to contact U.S. citizens in Sudan and enable the departure of those who wished to leave. We messaged every U.S. citizen in Sudan who communicated with us during the crisis and provided specific instructions about joining this convoy to those who were interested in departing via the land route," the department said in a statement Saturday. "We encourage U.S. citizens who want to leave Sudan but chose not to participate in this convoy to contact the Department of State using the crisis intake form on our website."
The evacuations have been enabled by "intensive negotiations by the United States with the support of our regional and international partners," according to the State Department, which reiterated its warning to Americans not to travel to Sudan.
Later Saturday, the Pentagon confirmed it received a request for assistance, though it did not say whether it came from Sudan.
The Pentagon has provided intelligence and surveillance assets, including drones, a department spokesperson said.
"The Secretary of Defense approved a request for assistance from the Department of State to support the safe departure of U.S. citizens and their immediate family members via overland. The Department of Defense deployed U.S. intelligence, surveillance, and reconnaissance assets to support air and land evacuation routes, which Americans are using, and we are moving naval assets within the region to provide any necessary support along the coast. Our focus has been and remains to help as many U.S. citizens depart as safely as possible," Pentagon spokesperson Sabrina Singh said in a statement.
On Thursday, White House press secretary Karine Jean-Pierre advised that Americans in Sudan who wished to leave should "take advantage of the options that are available to them in the next 24 to 48 hours."
Although countries like Saudi Arabia and Spain started evacuating their citizens and other foreign nationals from Sudan in the early days of the week and the U.S. airlifted diplomats from Khartoum over the weekend, the administration maintained that carrying out a large-scale operation to rescue some of the thousands of American citizens residing in Sudan was not feasible.
The U.K., Germany and France have all also evacuated thousands.
But not all operations have gone smoothly. On Friday, Turkey reported that one of its aircraft had come under fire as it landed in Khartoum — underscoring the threat that ongoing fighting poses to air rescues.
Before news of the U.S.-led convoys broke, the State Department's principal deputy spokesperson, Vedant Patel, defended the administration's posture and said it had played a hand in the mass evacuations orchestrated by other countries.
"Our allies and partners that are conducting operations that are able to also take American citizens out–we of course, are incredibly thankful and gracious for their ability to do so. But this is a collective and collaborative effort," he said. "We are offering logistical support for some of these operations to be conducted. Whether they be overland, whether they be through the air."
Patel also said that "only a fraction" of the thousands of U.S. citizens in Sudan had actively sought assistance to leave the country.
Other officials familiar with the situation have said it's unclear how much demand there is from American nationals for an exit route, emphasizing that individual's desire to leave can change on a day-by-day basis.
Secretary of State Antony Blinken said on Thursday that the State Department was working to establish "a sustained process" through which Americans could depart Sudan.
"We believe that the best way to have an enduring capability to help people leave Sudan–if that's what they so choose–is overland. And we're working to establish a process that would enable people to move overland to a place where they can more easily exit the country," Blinken said.
At least two American citizens were among the 500-plus killed in in the sectarian violence that first erupted two weeks ago, which has injured thousands more.
Although the U.S. had assisted in brokering a number of cease-fires in Sudan, their implementation has been uneven. While both sides agreed to another 72-hour truce on Friday, there's little hope it will hold.
"It's obvious to everybody that the ceasefires are not perfectly working," a U.S. official said. "But we are hearing from multiple contacts on the ground, as well as our international partners, that the series of efforts to push forward ceasefires are creating meaningful periods of reduction of violence and that these periods are allowing people to move out of Khartoum."
But as more foreign nationals leave, there's looming concern in Sudan that the battle for control over the country will catapult to new intensity.
"There's going to be fewer eyes on what's happening," said Jon Temin, vice president for policy and programs at the Truman Center for National Policy.
Copyright © 2023, ABC Audio. All rights reserved.