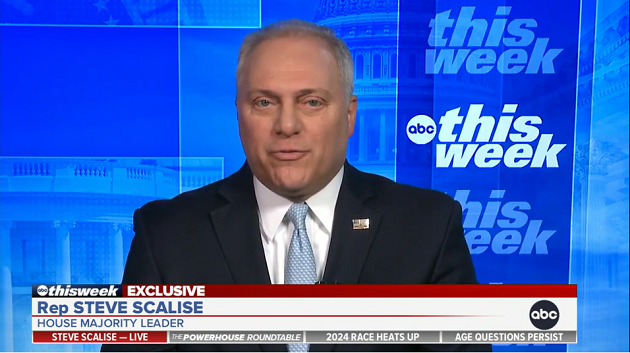 (WASHINGTON) — House Majority Leader Steve Scalise on Sunday urged President Joe Biden to negotiate with Speaker Kevin McCarthy amid the threat of political brinkmanship over raising the nation's debt ceiling to avoid an unprecedented default.
"We just passed a bill through the House. And we've been very vocal. It's been over two months since President Biden has sat down with Speaker McCarthy to have negotiations. President Biden is clearly trying to run out the clock and create a debt crisis. That's irresponsible," Scalise told ABC "This Week" co-anchor Martha Raddatz.
"The White House needs to ultimately get into this negotiation. The president's been in hiding for two months, Martha. That's not acceptable to Americans," Scalise said.
While much of his appearance focused on the national debt, Scalise also briefly touched on the 2024 GOP primary. He said the party must pick "a strong leader who's going to focus on getting our country back on track." But he didn't yet back any candidate, including former President Donald Trump.
Scalise instead talked at length about how he wants debt talks to unfold. The national government hit its debt limit early this year and has been employing "extraordinary measures" to continue paying its bills since then.
As Scalise noted, House Republicans last week narrowly passed legislation to increase the debt ceiling by $1.5 trillion while reducing federal government spending and reversing some key Biden-backed policies.
The GOP bill is dead on arrival in the Democratic Senate, with the president repeatedly insisting the debt ceiling be raised without any spending or policy compromises included in the legislation — as has happened multiple times in the past — while the budget is addressed in separate talks.
Scalise maintained on Sunday that the issues were connected: "As we're addressing the debt limit, we also have to address the problem that got us here."
"If the president is going to sit this one out, we're not, we're gonna lead," he said. "We passed a bill to address the problem. It's time now for the president to get in this game, get off the sidelines and let's start negotiating and figuring this out. Not in June when we get to the midnight hour, but today."
Scalise's comments mark the latest salvo in Republicans' pressure campaign on Biden to compromise with the House's GOP majority over the debt ceiling.
Treasury Secretary Janet Yellen has said her department will exhaust its "extraordinary measures" sometime after June, though a specific date for a default — the so-called "X-date" — remains unclear.
While they disagree on how to solve the problem, lawmakers from both parties agree that the U.S. defaulting on its debt is not an acceptable outcome.
"We can't default Martha. You know what the consequences would be for your viewers in our country if we were to default, and that's what this is really about. The Republicans are demanding hostage negotiations," Sen. Chris Coons, D-Del., told Raddatz in a separate appearance on "This Week."
Pressed by Raddatz, Coons said, "I'd be happy to negotiate. What's the mix of revenue increases and spending cuts that makes sense going forward?"
Scalise and other Republicans say that the ball is now in Democrats' court to put forward a plan after passing their own legislation.
"For all that we hear from our Senate friends, Martha, they've yet to pass anything," Scalise said. "If they've got a better idea, I want to see that bill."
He insisted the Republican legislation included "basic, commonsense" provisions such as work requirements for some recipients of federal aid as well as efforts to reduce "red tape, so we can promote American energy production."
He pushed back on criticism from Coons and some veterans' advocates that the GOP bill could harm veterans because it would reduce government spending. A letter last week, signed by two dozen groups, underlined that concern.
"Show me in the bill where it says any of those things. It doesn't," Scalise told Raddatz, adding, "The president doesn't want to talk about what's in the bill because, ultimately, we do things like reclaim unspent COVID money."
Raddatz also asked Scalise about his relationship with McCarthy, who has privately described Scalise as ineffective, according to The New York Times.
"We have a very strong open relationship. We don't always agree on everything, but we have a very candid relationship," Scalise said. "I know palace intrigue sells papers."
When asked about the 2024 GOP presidential primary, Scalise praised Trump's record on the economy and foreign policy — but said he was not yet ready to announce his support for any particular hopeful.
"You're gonna know what my announcement's going to be in time. I've been focusing on our House agenda, and we've been moving a really strong agenda for the American people," he said. "That's what families want."
Copyright © 2023, ABC Audio. All rights reserved.