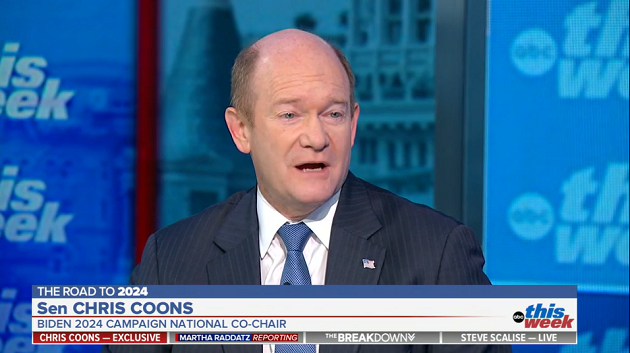 (WASHINGTON) — Delaware Democratic Sen. Chris Coons on Sunday pushed back on concerns that President Joe Biden's age and the lack of enthusiasm he inspires in voters make him unfit for reelection — predicting instead that Biden would win in a 2024 rematch with the "the alternative": Donald Trump.
"Two years later, President Biden is stronger," Coons, a national co-chair of Biden's campaign, told ABC "This Week" co-anchor Martha Raddatz. "He has an incredible record to run on. And the former president is weaker. He's been indicted. He spent years just re-litigating 2020."
In the interview, Coons defended the Biden White House, and the performance of Vice President Kamala Harris, while criticizing Republicans, including the GOP's latest strategy on raising the debt ceiling to avoid default.
Biden launched his 2024 bid with a video announcement on Tuesday that contrasted his work with what he called "MAGA Republicans."
"I'll remind you, our president often says, 'Don't compare me to the almighty, compare me to the alternative,'" Coons said on Sunday. "When folks get polled on a head-to-head if Donald Trump should be the Republican nominee again, he wins, and he wins decisively."
But Raddatz pointed to polling that also shows a majority of Democrats don't want Biden to be their nominee in the next election. Coons contended that a different set of numbers matter more: the millions of jobs — 850,000 of which are in manufacturing — created during the Biden administration.
"I look forward to talking about the numbers based on what we've gotten done with President Biden in the White House, on infrastructure, manufacturing, prescription drugs," Coons said. "It's a great record to run on."
Still, Raddatz noted that many voters raise concerns about Biden's age. At 80, he is the oldest president in U.S. history. (Trump is 76.)
Coons cited to two of Biden's recent high-profile appearances: His annual State of the Union speech in February and his remarks at Saturday's White House Correspondents' Association dinner.
"He had great delivery. You saw the State of the Union address — nearly an hour and a half, he was faster on his feet than most members of Congress. I think Joe Biden is agile, is capable," Coons said. "His record of leadership both at home and abroad makes him imminently qualified. And we should be focusing some on the wisdom and experience he brings to the job."
Raddatz followed up that "some of those people have watched him and still have doubts, so what would you say to them about those stumbles?"
"I'd say, 'Compare him to the alternative,'" Coons responded. "Recognize the value of experience and seasoning, recognize that his values align better with where we want America to go."
As Biden's 2024 campaign ramps up in the coming months, Coons said the president is eager to be on the trail, in contrast to the last cycle during the onset of COVID-19, when Republicans like Trump accused Biden of avoiding the public.
"Joe Biden loves campaigning. He loves going to a coffee shop, a union hall, a fire station," Coons said.
GOP presidential candidates have continued to stress Biden's age and what they say is his lack of stamina.
Former South Carolina Gov. Nikki Haley's team said last week that a vote for Biden would in effect be a vote for Kamala Harris because she suggested Biden wouldn't live through a second term.
On Harris' role going forward, Coons defended her work as vice president and said she is a capable leader in her own right.
"The vice president, like many vice presidents, has struggled to get positive press coverage and to get the credit she deserves for the hard work that she's been doing," Coons told Raddatz, adding, "The vice president's ready to run and ready to be president, should that ever happen. I know our president has great confidence in her and so do I."
Separately, Coons criticized a bill passed by House Republicans last week to address the nation's debt ceiling, which must be raised to avoid a historic default. Coons labeled the GOP strategy as a form of "hostage negotiations."
Conservatives argue Democrats must compromise on spending and policy changes to avoid a default. Biden has insisted the limit be raised without conditions, but he would also look at brokering a deal on the budget.
"The Republicans are demanding hostage negotiations where they will crash the full faith and credit of the United States," Coons said. "That would raise the rates that your viewers are paying on credit cards or student loans or mortgages. It would throw our country into recession and hurt us globally."
When Raddatz pressed the senator on the issue, Coons indicated Democrats are interested in negotiations on spending separate from the debt limit.
"What's the mix of revenue increases and spending cuts that makes sense going forward?" he said.
Copyright © 2023, ABC Audio. All rights reserved.