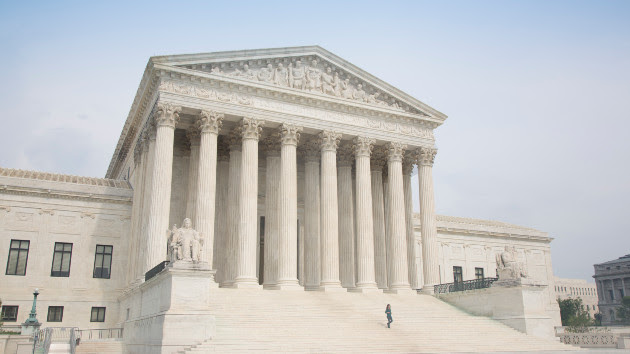 (WASHINGTON) — There's no conservative-liberal divide on the U.S. Supreme Court when it comes to calls for a new, enforceable ethics code.
All nine justices, in a rare step, on Tuesday released a joint statement reaffirming their voluntary adherence to a general code of conduct but rebutting proposals for independent oversight, mandatory compliance with ethics rules and greater transparency in cases of recusal.
The implication, though not expressly stated, is that the court unanimously rejects legislation proposed by Democrats seeking to impose on the justices the same ethics obligations applied to all other federal judges.
"The justices … consult a wide variety of authorities to address specific ethical issues," the members of the high court said in a document titled "Statement on Ethics Principles and Practices."
It appears to be the first time an entire court has publicly explained its approach to ethics issues and attested to specific parts of federal law governing their conduct.
"This statement aims to provide new clarity to the bar and to the public on how justices address certain recurring issues," they wrote, "and also seeks to dispel some common misconceptions."
The Supreme Court has come under mounting pressure to address its procedures for handling potential conflicts of interest after a wave of recent headlines alleging ethical lapses by Justices Clarence Thomas and Neil Gorsuch.
Public confidence in the justices is at its lowest point in more than 20 years of Gallup polling.
The justices' statement, appended to a letter from Chief Justice John Roberts to Senate Judiciary Committee Chairman Dick Durbin, D-Ill., appears squarely aimed at answering critics' concerns and demands from some for outside oversight.
"Without a formal code of conduct, without a way to receive ethics complaints and without a way to investigate them, the Supreme Court has set itself apart from all other federal institutions," said Gabe Roth, executive director of Fix the Court, a nonpartisan judicial watchdog group that has been lobbying Congress to mandate a high court code.
Durbin said Thursday in a statement that the justices' explanation of their approach to ethics "raises more questions than it resolves."
"Make no mistake," he said, "Supreme Court ethics reform must happen whether the Court participates in the process or not."
The Judiciary Committee, which is considering draft legislation to govern the justices' ethics compliance, invited Roberts to testify next Tuesday, but he declined, citing "separation of power concerns and the importance of preserving judicial independence."
In a letter released Thursday, Durbin asked Roberts to provide more details in writing about how the court drafted its ethics statement this week and how it enforces its terms internally.
The tussle between Congress and the current court over ethics is not new.
More than a decade ago, amid a similar wave of headlines alleging misconduct by several justices, Roberts worked to fend off a similar political push for regulation.
"I have complete confidence in the capability of my colleagues to determine when recusal is warranted," Roberts wrote in his 2011 year-end report on the federal judiciary. "They are jurists of exceptional integrity and experience whose character and fitness have been examined through a rigorous appointment and confirmation process."
He promised at the time to study the question of whether to have a code of judicial conduct that is applicable only to the Supreme Court. But then — as now — he also forcefully defended the institution from what he saw as undue meddling by other, co-equal branches of government.
The justices argued in their joint statement this week that proposals to force members of the court to recuse themselves under specified circumstances, publicly elaborate on the recusal process and subject their decisions to review could create more harm than good.
"If the full Court or any subset of the Court were to review the recusal decisions of individual justices," they wrote, "it would create an undesirable situation in which the Court could affect the outcome of a case by selecting who among its members may participate."
Later, they added that public disclosure of the basis for recusal could "encourage strategic behavior by lawyers who may seek to prompt recusals in future cases" by framing them a certain way in an attempt to disqualify a particular member of the court.
Many conservative lawmakers and legal scholars point out that justices already face the prospect of discipline for misbehavior: impeachment. It remains the only constitutionally authorized mechanism for removing a life-appointed justice accused of wrongdoing.
And many veteran court watchers note that few of the recently surfaced ethics allegations likely rise to that level.
"There's no actual evidence of corruption in the outcome of any case or even the appearance of corruption in any case," said Sarah Isgur, an ABC News legal contributor and former Justice Department attorney. "It's just that something like this could lead to the appearance of corruption."
Many ethics experts say, on the whole, that members of the current court appear to have reasonably complied with financial disclosure and gift and travel guidelines, but they noted there are several high-profile examples of reporting lapses, inadvertent or not, including those in the latest headlines.
Justices appointed by presidents of both parties have routinely had to amend their financial disclosure forms after errors or omissions have been observed. It is not clear whether Justices Thomas or Gorsuch have moved to amend their disclosure forms following the recent reports about unreported gifts and real estate transactions.
Senate Democrats, who have called for an investigation of Thomas, received notice last week from the federal courts' administrative body — the Judicial Conference of the U.S. — that their complaint had been referred to a committee which oversees financial disclosure compliance.
Thomas has denied wrongdoing. His allies insist the cascade of news stories scrutinizing his relationships, travel and business dealings with conservatives are politically motivated.
"It's no surprise that the justices who are being targeted by these stories are all on one side of the ideological spectrum, because it's not that there aren't other justices who have wealthy friends," said Carrie Severino, a former Thomas clerk and president of the Judicial Crisis Network, a conservative legal group.
"It's very clear [all the justices] recognize what's going on. That's why they signed this statement. This isn't about the ethics code, because they've got one," Severino contended. "This is about intimidating certain members of the court, and they all can get behind exactly what the proper guidelines are."
Copyright © 2023, ABC Audio. All rights reserved.