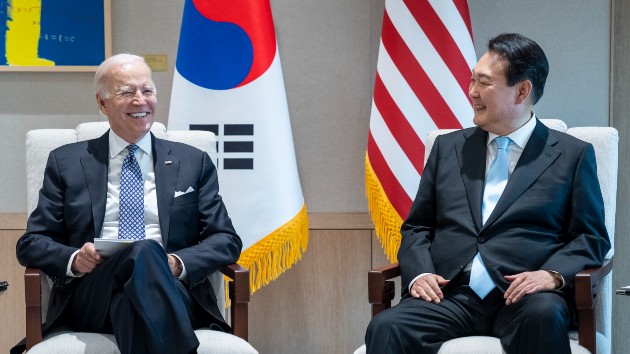 (WASHINGTON) — South Korean President Yoon Suk Yeol will address a joint meeting of Congress Thursday as he continues a weeklong state visit to Washington.
Yoon's trip comes as the U.S. and South Korea mark the 70th anniversary of their alliance, forged in the aftermath of the Korean War, as they now face North Korean aggression and Chinese expansion in the Indo-Pacific region.
"This is really a very impressive moment for the relationship," said Scott Snyder, a senior fellow for Korea studies at the Council on Foreign Relations. "The U.S. and South Korea have evolved to be working on so many different issue areas, and the scope of the relationship has broadened out beyond the peninsula to become more regional and global."
Yoon, a conservative elected in 2022, has repeatedly emphasized global freedom since taking office. Snyder said that theme could emerge again in his address to U.S. lawmakers.
President Joe Biden and Yoon held a bilateral meeting in the Oval Office on Wednesday, during which they discussed working together to deter North Korea's nuclear threats, promote peace in the Taiwan straits, stand with Ukraine amid Russia's invasion and more.
Appearing side-by-side after at a joint press conference, both leaders hailed the importance and strength of the alliance.
"Our relationship has been a great success story," Biden said. "An alliance formed in war, and it's flourished in peace. Seemingly every day we've launched new areas of cooperation, all areas that matter most to our future."
But the trip isn't without diplomatic and economic tension.
A recent leak of classified U.S. intelligence documents seemingly showed Washington was spying on South Korea's leadership. Yoon played down the spying suggestion during Wednesday's press conference, stating the two nations are in communication and are "sharing necessary information" as the U.S. investigation into documents' disclosure plays out.
Some South Korean officials have expressed concern about two major pieces of American legislation — the Inflation Reduction Act and the Chips and Science Act — stating provisions of the laws discriminate against Korean businesses.
Biden, pressed on whether the Chips Act was damaging the key ally, defended the law as a "win-win."
"Two significant South Korean companies decided they were going to invest billions of dollars in chip manufacturing in the United States," he said. "It wasn't designed to hurt China, it was designed to, so we didn't have to worry about whether or not we had access to semiconductors."
Yoon said the U.S. and South Korea have agreed to coordinate so that the laws "can further strengthen supply chain cooperations between the two countries in advanced technology."
Meanwhile, Yoon has faced pressure from the U.S. and NATO to provide artillery to Ukraine as it faces depleted stocks. The leaked U.S. documents included descriptions of South Korea's National Security Council's internal discussions about the U.S. request to provide artillery ammunition to Ukraine.
South Korea's longstanding policy has been not to provide lethal weapons to countries at war.
Yoon said Wednesday that the U.S. and South Korea "agreed to continue our cooperation and efforts, alongside the international community, to support Ukraine" but made no mention of artillery.
A hot-mic moment last year also caught Yoon insulting U.S. members of Congress as "idiots" if they didn't approve funding to the Global Fund, an organization dedicated to fighting AIDS, tuberculosis and malaria.
Copyright © 2023, ABC Audio. All rights reserved.