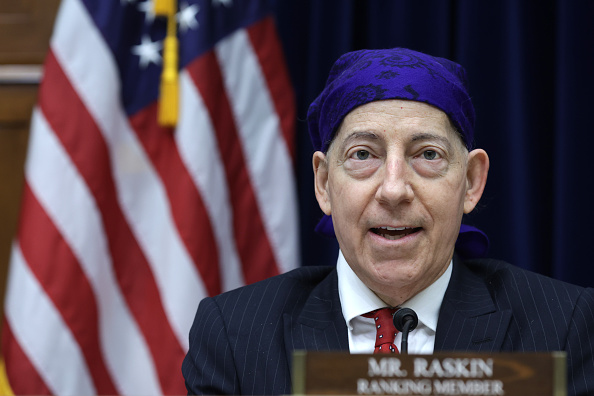 (WASHINGTON) — With "love and thanks," Rep. Jamie Raskin announced Thursday that he was now in remission from cancer four months after first sharing his diagnosis.
A scan showed Raskin was "negative" for discernible cancer cells and had received a preliminary diagnosis of being in remission, "with a 90% prognosis of no relapse," he said in an open letter.
"I am overwhelmed with gratitude and love," he said, going on to thank "my family, my friends, my constituents and my colleagues" and "the many thousands of people—both Marylanders and those of you living much further away—who have reached out to me over the last five months with expressions of prayer, best wishes, concern, solidarity, sympathy and moral encouragement."
"Not to mention beautiful gifts of bandanas, homemade scarves and sweaters, Capitol Police baseball caps, hospital scrubs, wool hats, chocolate chip cookies, mandel bread, pea soup, vegan matzoh ball soup, and gorgeous paintings, poems and letters that I will treasure forever," he continued.
On Twitter, he shared video from Tuesday when he "rang the bell" to mark the end of his cancer treatment and thanked medical staff at Med Star Georgetown University Hospital, "who serve with splendid kindness—and saved my life."
The Maryland Democrat said in December that he had been diagnosed with diffuse large B-cell lymphoma and would be undergoing chemotherapy while continuing to work on Capitol Hill, where he began to wear distinctive bandanas — a reflection of his hair loss from treatment and a nod to musician Steven Van Zandt.
"I give all honor to Little Steven for creating this look for American men going through something," he told HuffPost in late January. (Van Zandt subsequently gifted him a bandana, wishing him a "rapid recovery.")
Raskin, a lawyer and former state lawmaker first elected to the House in 2016, saw his profile rise after serving as a manager in former President Donald Trump's second impeachment. Raskin went on to serve on the House panel investigating the Jan. 6 riot at the Capitol. He previously survived colon cancer.
While undergoing treatment, Raskin received support from colleagues on both sides of the aisle. "We're all rooting for you," Oversight Committee Chair James Comer told him during a meeting in January.
In his Thursday open letter, Raskin said his heart was full — and his body was tired.
"I have many things that I want to say to the people across America who have stood by me and helped carry me through this prolonged challenge, and I will come to say them soon," he said. "Right now my hemoglobin and white blood cell counts are plunging from my final five-day round of chemotherapy, and I am afraid I lack the energy to properly thank you all and express the enormity of my feelings about the enduring beauty and promise of our country."
"In the meantime," he said, "I just want to send you my profound appreciation."
Copyright © 2023, ABC Audio. All rights reserved.