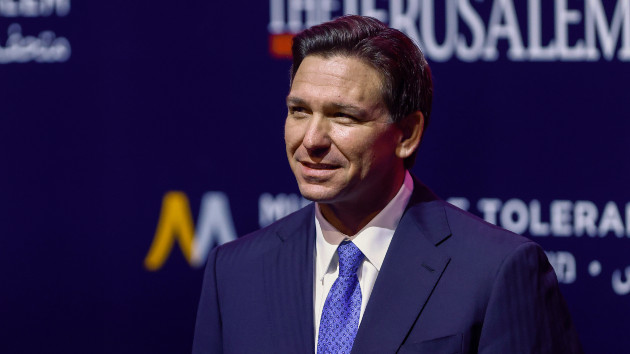 (WASHINGTON) — Florida Gov. Ron DeSantis is set to take a major step closer to announcing that he's running for president in 2024, with plans in the works to launch an exploratory committee as early as mid-May, sources familiar tell ABC News.
DeSantis' official announcement would come soon after, with the governor currently eyeing mid-June, the sources said. The news was first reported by NBC News.
A spokesperson for DeSantis did not immediately respond to a request for comment.
The governor has long been seen as former President Donald Trump's main rival for the 2024 Republican presidential nomination.
ABC News previously reported that DeSantis has privately indicated to allies that he intends to launch a run for the White House.
The governor has suggested that any political decision would have to wait until after his state's Legislature has adjourned this year, which will be in early May.
"This is going to be the most productive legislative session we have had across the board, and I think people are going to be really excited," he said on Fox & Friends in February, during which he also touted his new book and accompanying tour. "As we get beyond that, then we can decide from there," he said then.
While Florida currently has a "resign-to-run" law that would require DeSantis to step down if he launched a White House bid, a state senator this week introduced an amendment to exempt "persons seeking the office of President or Vice President of the United States."
DeSantis, both popular and controversial, easily won reelection in November and has since sought to share Florida's "blueprint" for success with other parts of the country.
At the same time, he has focused on culture war issues — such as restricting classroom discussion of sexual orientation and gender — while fighting what he calls excessive "wokeness" in America, driven by liberals.
Copyright © 2023, ABC Audio. All rights reserved.