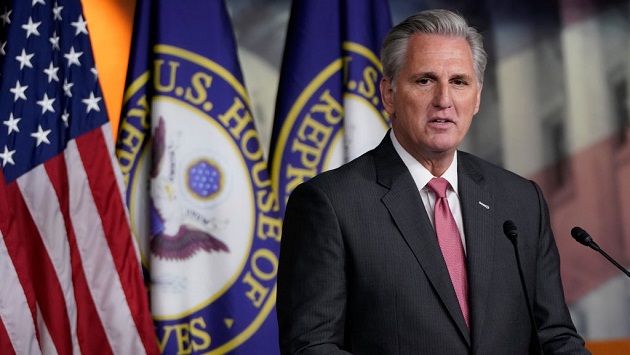 (WASHINGTON) — House Republicans began voting Wednesday on legislation that would raise the nation's debt limit while cutting federal government spending — an effort intended to force Democrats into negotiations even as the bill has scant chance of becoming law.
"This week we will pass a bill on this floor that will lift the debt ceiling — something the Senate has not done, something the president has not negotiated — and send it over to the Senate, because we think this is a responsibility," Speaker Kevin McCarthy said during a gaggle with reporters outside his office on Tuesday.
The legislation, known as the Limit, Save, Grow Act, would increase the debt limit by $1.5 trillion, reduce funding for federal agencies to 2022 fiscal year levels, limit growth in government spending to 1% per year and block various measures backed by the White House, such as federal student debt cancellation and new funding for the IRS.
The proposed debt limit increase would last through March 2024 — a shorter extension than preferred by President Joe Biden — in exchange for spending cuts and policy changes.
Senate Majority Leader Chuck Schumer has said that even if the GOP bill passes the House, it has no chance in his chamber and the president has vowed to veto it.
But GOP leaders hope the proposal will frame talks with Democrats, who argue the debt ceiling should be raised separate from any compromise on government spending and policy.
Because the U.S. does not take in enough revenue to pay for its bills, it periodically borrows money, increasing its debt — which is capped by Congress unless lawmakers raise the limit. The U.S. hit that debt ceiling in January and the Treasury Department has been employing "extraordinary measures" since then to keep the government funded, but those will run out as early as June.
In a statement this week, White House press secretary Karine Jean-Pierre labeled the GOP House bill a "ransom note" and said its spending cuts would be painful, if enacted. "Americans won't forget House Republicans' celebration of slashing fundamental programs that our families, seniors, and veterans count on every day," she said.
McCarthy put it another way and described the proposal as enforcing fiscal discipline on a bloated government. "We cannot sit back and ignore the problem like the president has. I know he does it with the border, and I know he is now doing it with the fiscal policy of America," he told reporters on Tuesday.
He stressed that the bill was a starting point "to get us to the negotiating table."
"We want to sit down and work together, and that is exactly what this bill does," he said.
"It is not the final provisions, and there's a number of [Republican] members that will vote for it going forward who say there are some concerns they have … but they want to make sure a negotiation comes forward because we are sitting at $31 trillion of debt," McCarthy said.
On Wednesday, hours before the voting process began on the bill, he told ABC News that it was not merely for messaging, dismissing such a question with laughter.
House Majority Whip Tom Emmer spoke bluntly at a Republican news conference Wednesday, pushing back on Democratic calls for a debt limit hike without strings attached. Democrats warn that anything else risks an unprecedented debt default that would ripple through the global economy, which is anchored by the U.S.
"Don't be fooled. There is no such thing as a 'clean' debt ceiling increase," Emmer said. "That's about as dirty as it gets — handing Chuck Schumer and Joe Biden a blank check."
The House voted on the rule for the debt limit bill on Wednesday afternoon — with Republicans approving it, 219-210. The final vote could then happen as early as later Wednesday, Majority Leader Steve Scalise said at the earlier news conference.
Successfully passing the bill will be a major test of McCarthy's leadership of the slim Republican majority. Democrats remain unified in opposing the GOP debt ceiling plan, which means McCarthy can lose no more than four votes from his party.
Rep. Tim Burchett of Tennessee has already said he'll vote no, giving GOP leadership little wiggle room as they go to the floor. Rep. Nancy Mace of South Carolina had initially opposed the bill but said Wednesday she would vote yes, after discussing it with McCarthy.
The speaker insisted as recently as Tuesday night that he wouldn't budge on revising the bill any further. "No, we're going to pass the bill on the floor, do you guys not listen to my answers — my god!" he exclaimed to reporters then.
However, he ultimately brokered several 11th hour deals with members of his conference in order to get the bill to a vote. Those compromises included restoring ethanol tax credits, which had been a sticking point for multiple Midwestern lawmakers who represent agricultural districts.
The changes also added more stringent work requirements for those who use the federal Temporary Assistance for Needy Families and Supplemental Nutrition Assistance Program.
After a closed-door conference meeting of his party on Wednesday, McCarthy was asked if he has 218 votes needed for the legislation to pass.
"I don't want to take all your anticipation away," he said, but later described himself as "very" confident.
Before the last-minute revisions, the nonpartisan Congressional Budget Office said the bill would reduce budget the federal government deficit by $4.8 trillion over the next 10 years, with a decrease of about $700 million in mandatory spending, a $400 million increase in revenue and $500 million drop in interest on public debt.
Biden has said he will veto the bill if it reaches his desk, and the White House has come out strongly against it.
"Speaker McCarthy has cut a deal with the most extreme MAGA elements of his party," the White House communications director, Ben LaBolt, said in a statement Wednesday.
"House Republicans are selling out hard-working Americans in order to defend their top priority: restoring the Trump tax cuts," LaBolt argued.
ABC News' Katherine Faulders and Sarah Kolinovsky contributed to this report.
Copyright © 2023, ABC Audio. All rights reserved.