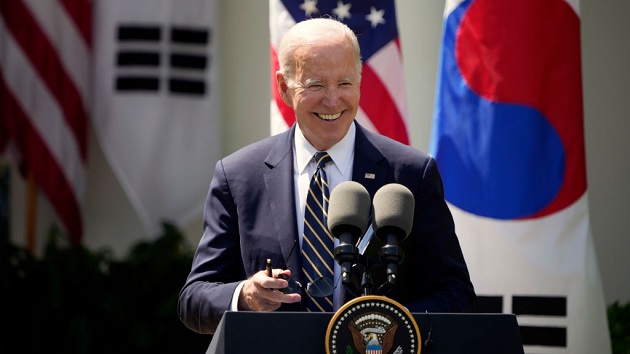 (WASHINGTON) — President Joe Biden on Wednesday said he respects Americans taking a "hard look" at whether his age is a factor and to decide if he's fit to serve as he seeks a second term.
Biden, 80, made his 2024 bid official Tuesday when he released his first campaign video. Biden addressed his reelection run for the first time since the announcement during a joint news conference with South Korean President Yoon Suk Yeol.
ABC News Chief White House Correspondent Mary Bruce pressed Biden on questions about his age and a recent poll showing 70% of Americans, including a majority of Democrats, don't believe he should run for a second term.
She noted Biden has often responded "watch me" when the question comes up.
"What do you say to those Americans who are watching and aren't convinced? You've said you can beat Trump again. Do you think you're the only one?" Bruce asked.
Biden replied he may not be the only one who could defeat the former president, but that he knows Trump "well" and he knows "the danger he presents to our democracy."
Biden also pushed back on polling data showing his approval rating to be in the mid-40s, arguing other presidents seeking reelection have faced similar positions. He also argued the numbers are higher when people are asked about the job he's done as commander in chief.
"Things are moving and the reason I'm running again is a job to finish," he said, referencing his campaign slogan.
On his age, Biden joked that he "can't even say the number" but respected that it may be an issue for voters.
"They're going to see a race and they're going to judge whether or not I have it or don't have it," he said. "I respect them taking a hard look at it, I'd take a hard look at it as well."
He continued, "I took a hard look at it before I decided to run, and I feel good. I feel excited about the prospects, and I think we're on the verge of really turning the corner in a way we haven't in a long time."
Asked if he'd be running for reelection if Trump hadn't jumped into the race, Biden said he would.
"I still think I would be running if he wasn't," Biden told Bruce.
Trump mounted his campaign in November, and is the current front-runner for the Republican nomination. The former president, responding to Biden's announcement, said it was almost "inconceivable" Biden would seek another term and said "there has never been a greater contrast between two successive administrations."
Copyright © 2023, ABC Audio. All rights reserved.